The Environmental Benefits of Metal Roofing: A Sustainable Choice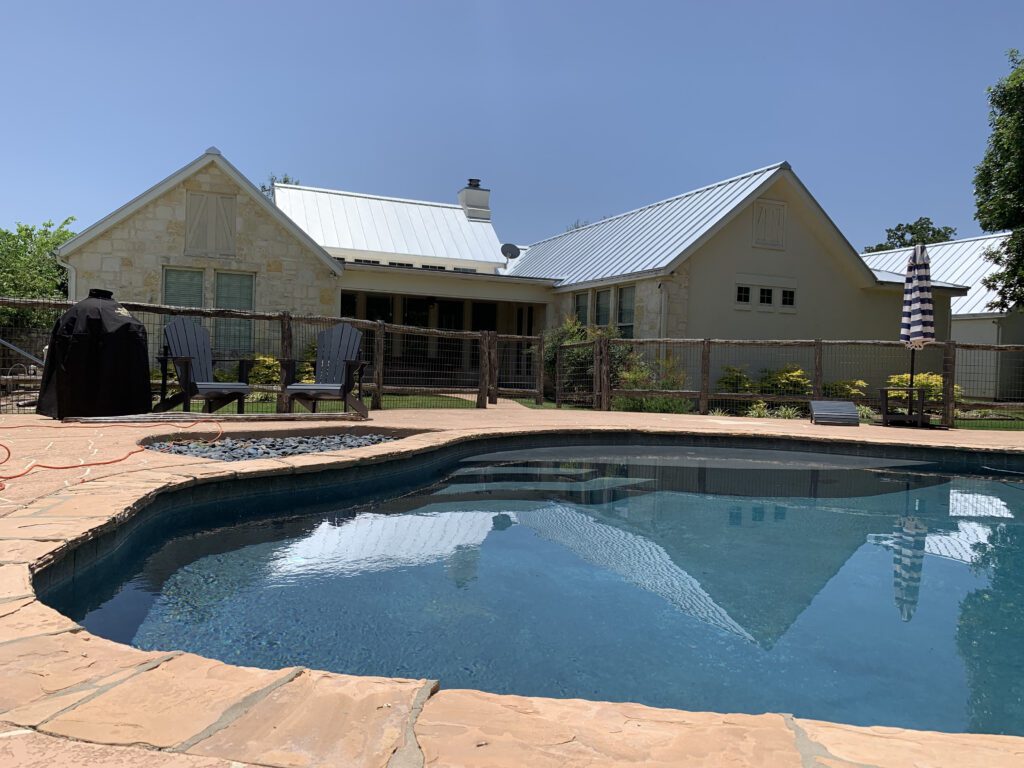 In a world increasingly concerned about environmental impact, our choices in roofing materials matter.
Sustainability has taken center stage, and as we look for ways to lessen our carbon footprint, opting for eco-friendly solutions like metal roofing has become essential.
Metal roofing steps into this spotlight as a prime example of a roofing option that marries durability and style with environmental consciousness.
This blog delves into the ecological benefits of metal roofing.
From enhancing energy efficiency to reducing waste and lowering our carbon footprint, metal roofing offers a tangible way to align our choices with sustainable living.
We'll explore how metal roofing can contribute to a more environmentally aware future.
So, let's dive in and uncover how this roofing option can make a positive impact on both your home and the planet.
We'll explore the unparalleled longevity, eco-friendly characteristics, and other advantages that make metal roofing stand out in the market.
Join us on a journey toward a more sustainable future with SA Metal Roofing!
Reflective Shield: Metal Roofs and Energy Savings
Metal roofs do more than shield you from the elements; they're also your home's energy-efficient armor.
Their reflective properties work like a shield, bouncing off a significant portion of the sun's rays.
By doing so, they prevent excessive heat absorption, naturally keeping your home cooler.
This reflective magic means less heat penetrating your living spaces, reducing the load on your cooling systems.
Withstanding the test of time and nature's wrath, metal roofs provide peace of mind and a steadfast shield for your property against external threats.
Cool Comfort and Cost Savings
Picture this: a home that's not only cool but also easy on your wallet.
With metal roofing's cooling benefits, you're in for both.
By reducing the heat trapped in your home, your air conditioning works more efficiently, leading to lower energy consumption.
This translates into tangible savings on your monthly energy bills.
According to this study from State Farm, a metal roof can save up to 25% on your monthly cooling expenses!
So, while metal roofing elevates your home's style, it's also putting money back in your pocket by helping you cut down on cooling costs.
Sustainable Lifecycles: Metal Roofing's Recyclability
Metal roofing isn't just durable; it's also refreshingly sustainable.
When its long lifespan eventually comes to an end, the story doesn't stop.
Metal roofs are 100% recyclable, meaning the materials can be repurposed for various applications.
Unlike traditional roofing materials that often end up as waste, metal roofing continues its journey as part of new products, reducing the demand for virgin resources.
Lightening the Landfill Load
Picture the environmental burden of discarded roofing materials piling up in landfills.
According to Forbes, over 12 Million pounds of asphalt shingles end up in US landfills annually.
With metal roofing, this scenario gets a positive twist.
By opting for metal, you're contributing to the reduction of waste in landfills.
This small step in choosing sustainable roofing materials adds up, lessening the pressure on our environment.
With metal roofing, you're not just protecting your home; you're also lightening the load on our planet's waste disposal systems.
A Roof That Stands the Test of Time
Investing in a metal roof is like securing your home's future for the long haul.
With an impressive lifespan that often spans decades, metal roofs outlast many traditional counterparts.
This durability means fewer replacements over the years, saving you both the hassle and the resources needed for frequent roof changes.
Let's make a comparison: while traditional roofs might demand replacements every decade or so, metal roofs are in it for the long game.
They withstand the elements, holding strong against the passage of time.
By opting for metal, you're making a choice that reduces the frequency of roofing replacements, curbing the waste associated with changing out roofs more frequently.
It's not just about the present; it's a decision that reverberates positively into the future.
Making Strides Towards Sustainability
When you choose a metal roof, you're taking a step towards minimizing your carbon footprint.
Metal roofs have a lower environmental impact due to their reflective nature, which helps keep your home naturally cooler.
This reduces energy consumption, resulting in fewer greenhouse gas emissions from power generation.
Less Reliance on Fossil Fuels
Here's where the magic lies: metal roofs require less reliance on fossil fuels compared to their traditional counterparts.
This means fewer resources are needed for production and upkeep, resulting in less energy consumption overall.
By embracing metal roofing, you're making a conscious decision to support sustainable practices and contribute to a cleaner environment.
Your choice isn't just about your home; it's about embracing a greener way of living for the benefit of our planet.
The Cool Roofing Advantage
Metal roofing not only shields your home but also brings a cooling touch to your surroundings.
Its reflective properties help counter the urban heat island effect, where built-up areas retain heat and cause local temperatures to rise.
With a metal roof, your home absorbs less heat, contributing to a cooler city.
Building a Greener Urban Landscape
Imagine a cityscape that's more breathable and comfortable, even on sweltering days.
The cool roofing effect of metal roofs plays a significant role in creating such a scenario.
By reducing heat absorption, metal roofs contribute to a more sustainable urban environment.
They help combat rising temperatures and enhance the quality of life in densely populated areas.
When you opt for metal roofing, you're not just making a choice for your home; you're also contributing to a greener, more pleasant urban landscape.
Embrace a Sustainable Horizon
In a world where sustainable choices matter more than ever, metal roofing emerges as a beacon of eco-friendly roofing solutions.
Its reflective properties, recyclability, and impressive lifespan combine to create a roofing option that's both durable and environmentally conscious.
Choosing metal roofing means not only enjoying reduced energy bills and a cooler home but also contributing to a greener planet.
With its reduced need for replacements and minimal manufacturing impact, metal roofing is a smart choice that aligns with modern environmental values.
Ready to Explore the World of Metal Roofing?
Our experts at SA Metal Roofing are here to guide you through the journey.
Contact us for a 1:1 consultation to discover how metal roofing can be a smart and sustainable choice for your home.
Your decision isn't just about roofing; it's about embracing a more responsible and eco-conscious way of living.